This essay is about the statement above it will show how this can be shown as true or false. You could feel that Tulip is Evil by Nature or Nurture, but you might consider in which way she is, which would be different to what you firstly thought. How is Tulip evil, nature or nurture? Nature is what they're born like that and nurture is her surroundings something they picked up after birth. There was not many evidence in the book that suggested it was her nature. While reading this book I could mainly find suggestions that it was nurture so that is my option so far.
Firstly I will show evidence in which it is nurture. Tulip was said to have portrayed "her cocky self-confident self." While at the Palace but when at her own ghastly dwelling it was a different story. Natalie thinks when Tulip is there she is as empty as a shell. Tulip dose drowned kittens sometimes, but only because if her dad dose it, it takes hours. So she does it to save the suffering of the kitten, this shows she has some humanitarian. Natalie's dad thinks that she is purely evil by nurture. "Don't be silly. You know as well as I do that Tulip has had a rotten start to life, that it is hardly a surprise that she's insensitive to other people's feelings." So that could be a fight on how she is evil by nurture.
At this point I am still for nurture but it could change after this. Now I will show how it could be nature. Natalie's mum thinks that "Tulip is not stupid. Tulip knows the rules." So in other words she thinks that Tulip is smart enough to know her boundaries. "Tulip is downright evil" Natalie's mum and Miss Ferguson both think. Miss Ferguson also thinks that "That Pierce girl is malevolent by nature!" "Is Tulip mad or bad?" Natalie thinks that she could have just been born mad which makes her bad. Every one finds it atrocious that Tulip had been visiting the Brackenbury's house, and then asking for their dead child to come out and play. Natalie wonders about her morbidity and finds out about the kitten drowning. Some of the hotel guests think that Tulip is as wicked as a witch.
In conclusion I believe that my overall judgement is that Tulip Pierce is purely evil by Nurture. As I believe that no one can be born evil in less they have mental illnesses. As her dad threatens her she becomes evil by the way she is talked to and treated. Like when Mr Pierce yelled out "Better get home before me, Tulip, or I'll snatch you bald headed!" So I think it was her upbringing and environment that caused her to be evil. I think If Tulip was a real flower and was planted in the palace she would of bloom bright and colourful. But at her own dwelling she was a shrivelled and dead flower who had not yet had a chance to bloom.
THE TULIP TOUCH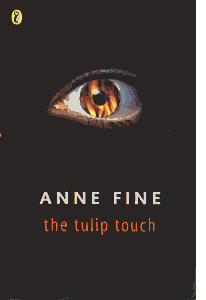 She's mad. There has to be something wrong with her. She's insane.

Nobody wants Tulip in their gang. She skives off school, cheeks the teachers, and makes herself unpopular with her classmates by telling the most awful lies.
None of this matters to Natalie. Natalie finds Tulip exciting, and at first she doesn't care that other people are so upset and unnerved by Tulip's bizarre games like Stinking Mackerel and Road of Bones. It's funny to watch their reactions, and there's always the delicious fear that the two girls might be caught. But as the games become increasingly sinister and dangerous, Natalie realizes that Tulip is going too far. Much too far.
Winner of the Whitbread Children's Book of the Year
Highly commended for the Carnegie Medal
Shortlisted for the Sheffield Children's Book Award, 1997.
Runner up for the Lancs Library Children's Book of the Year
Wirral Paperback of the Year, 1998.
Federation of Children's Book Groups Pick of the Year, 1996
Shortlisted for West Kent Schools Themed Book Award 2009
In the USA, The Tulip Touch was chosen as an ALA Notable Children's Book; the Booklist Editor's Choice - "Top of the List" Fiction; Bulletin, Blue Ribbon List, 1997; School Library Journal's "Best Books of '97"; River Bank Review "Children's Book of Distinction", Arizona Library Association Young Readers Award 200 Nomination.
---
---
The Tulip Touch by Anne Fine is a novel for older children. It was first published in 1996, and is currently available in the following editions (Click the link to buy the book from

), or use the ISBN to help your local bookshop or library to order it for you: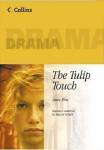 ---